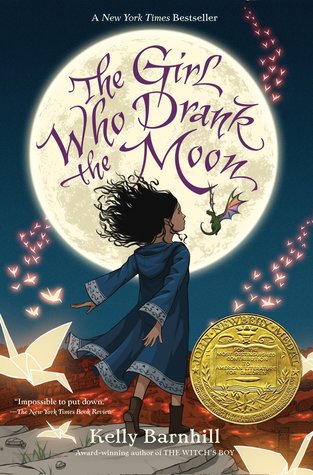 The Girl Who Drank The Moon by Kelly Barnhill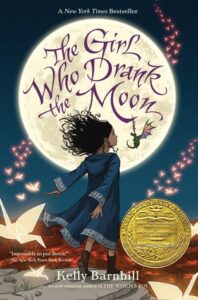 The Girl Who Drank The Moon by Kelly Barnhill is a middle-grade fantasy novel.
Every year, the youngest baby in the Protectorate is taken from their mother and left in the forest as sacrifice for the "evil" witch.
Every year, the witch comes to rescue the baby that these horrible people from this village just left in the woods.
Xan, the witch, nourishes these babies with starlight on her way across to forest making them healthy and strong. The people on the other side of the forest await her arrival every year, wishing to adopt the special child and give it a loving home.
One year, Xan "accidentally" feeds a child moonlight, which gives the baby magical abilities. Xan is then "forced" to take this child home and raise it herself.
This book took me awhile to really get invested; it was a rocky start. I think it was because I am a mother myself, with parental separation anxiety, and the thought of having my new baby ripped out of my arms to give as sacrifice to an evil witch in the woods is my worst nightmare. However, once we meet all the characters, and get a feel for the magic, this story really is cute.
This book was written with a fifth grader in mind. I definitely need to expand my knowledge of middle-grade books, especially because Maxwell is in the second grade now, and is quickly approaching this reading level. If you have any recommendations, I'd love to hear them!
★★★★☆
Photo Credit: Goodreads