A Court of Thorns and Roses by Sarah J. Maas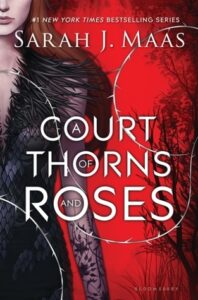 A Court of Thorns and Roses by Sarah J. Maas is the first in a young adult fantasy series loosely a Beauty and the Beast retelling. Originally a trilogy, now being expanded into 6 core novels and 2 novellas.
Feyre is responsible for keeping her family fed since her mother's death, and father's injury. She's become an excellent hunter out of necessity, while her sister's play the damsel's in distress.
On a hunt, in the desperate months on winter, Feyre finally spots a deer, an animal that could feed her family for weeks, or trade for other necessities. She then notices a large wolf stalking the prey as well. It's an easy decision when faced with survival, she kills the wolf too, taking the pelt to sell at market.
That decision costs Feyre greatly. Drug off to a magical kingdom for killing a faerie, she is trapped in a land suffering from an ancient curse. Feyre must fight to break the curse to save the faeries, whom she's grown to love.
This book defeated my reading slump. It's steamy. It's trashy. I loved every second of it.
There are very problematic elements. A few being, imprisonment, wearing close to nothing while fighting, and trading herself while making deals.
This is not a literary work of art. However, it was highly entertaining, and fast-paced. I cannot wait to continue on with the series; I've heard the second book is even better!
★★★★★
Photo Credit: Goodreads