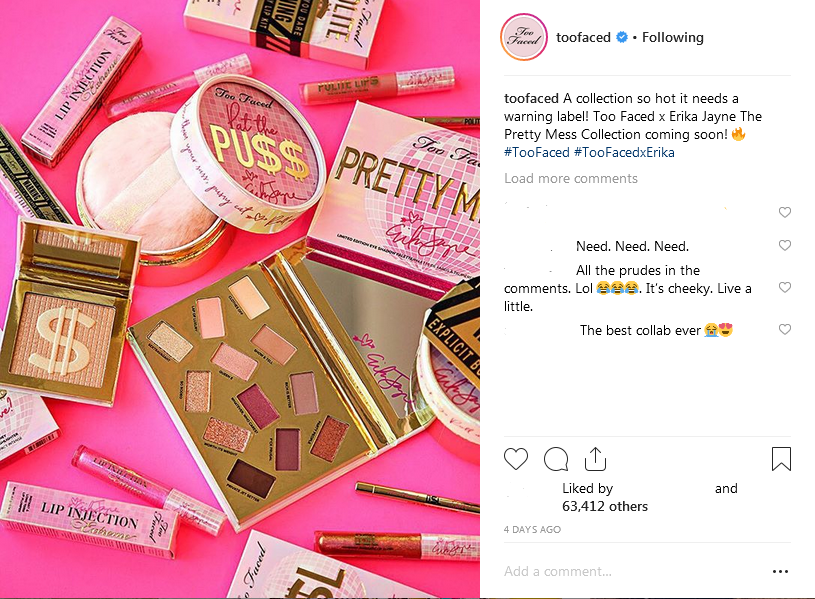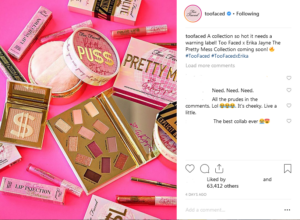 Too Faced has a new collection launching February 12th in collaboration with The Pretty Mess.
The collection includes a 12 pan eyeshadow palette, a Lip Injection, 2 lip kits, a body shimmer, and a highlight.
Not gonna lie, I was flabbergasted when I saw this collection for a couple of reasons:
Firstly, I had no clue who The Pretty Mess was. Erika Jayne is on The Real Housewives of Beverly Hills, and clearly has a loyal fan base, with 1.6 million followers in Instagram.
Secondly, after the response on the Glow Job Glitter Mask, retailing for $52CAD, I'm surprised they went this route again, with the "shocking", risque product names. In this collection specifically, you have a body shimmer named 'Pat the Pu$$', and a lip kit named 'DSL' (I had to look this one up #grandma).
In my opinion, Too Faced needs to choose a lane, and stay in it. One the one hand, they have super cute, sweet packaging/products, such as the tin packaged palettes (Chocolate Bar, Clover, etc.), which may appeal to a younger demographic, then they have products such as these on their shelves as well. They can't have it both ways.
While I am not someone who's offended by these products, I find them distasteful and will not be purchasing. What are your thoughts on this collection?
Photo Credit: Too Faced Instagram