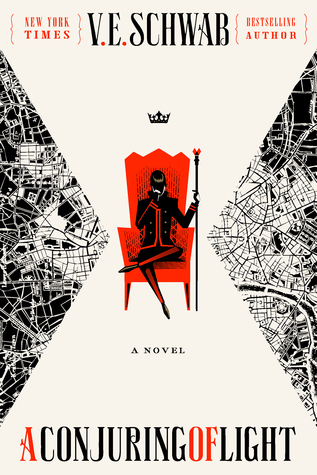 A Conjuring of Light by V. E. Schwab
A Conjuring of Light by V. E. Schwab is the third book in the Shades of Magic series. I have done a post on the first in the series, A Darker Shade of Magic, and the second, A Gathering of Shadows, and recommend reading these first so you are not spoiled in anyway for the series if you haven't read them yet.
The precarious balance that has been maintained between the four London's is now at it's breaking point. Power has been building in White London, while Red London has been quite distracted lately.
Kell is struggling to find his place within his new responsibilities. Lila needs to gain control over her magic, and learn the balance before it consumes her. Alucard needs to track down the impossible. All the while, Rhy needs to keep is kingdom from falling apart.
I absolutely loved this series as a whole. It took me a very long time to finish this last installment in the series, but that is definitely due to my mood lately; I just didn't have the same obsession.
This book solidified my love for Holland. We see a new side to him, learn about his past, and motivations. There is a lot of character development happening in this book. The ending is quite open. It wraps up the series well, while leaving a glimmer of hope for future works in this world. 👀👀 I see you V. E. Schwab!
I look forward to rereading this series in the future.
★★★★☆