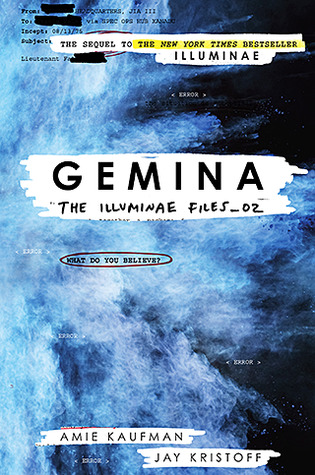 Gemina by Amie Kaufman and Jay Kristoff
Gemina by Amie Kaufman and Jay Kristoff is the second book in the Illuminae Files series. I have done a post about the first in the series, Illuminae, and recommend reading that post first so you are not spoiled in anyway for the series if you haven't read the first book yet.
This fast-paced, science fiction (with a hint of horror vibes if you're a scared-y cat like me) series that began with Illuminae, now continues aboard the Heimdall, where our two new main characters prepare for BeiTech's next attack.
Hanna is the spoiled daughter of the station's captain, with a surprising amount of war and combat training. Nik is a member of the notorious crime family, but is he really as bad as his kin?
Just like the first installment, Gemina is jam packed with action. An attack by an elite group of mercenaries. The Hypatia speeding through space towards them. Alien predators hunting them through the halls. And a rip in the space-time continuum. What could possibly go wrong?
As with the first, this story is told through mixed media, and I definitely recommend the audiobook!
My rating for this is 3.5? 4? Overall, this was really great and I'm excited to continue. However, I liked this less than the first. Without spoiling, I really didn't like the "plot twist" nearing the end. It was just a little too out there for me. Which is a strange thing to say after reading a book aboard a spaceship with aliens attacking them but…
Photo Credit: Goodreads