Legends & Lattes by Travis Baldree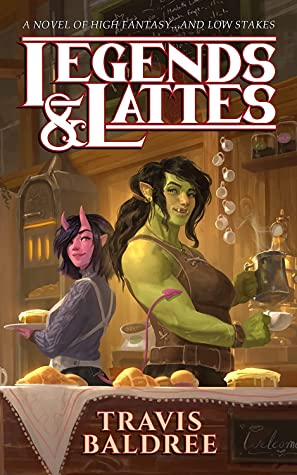 After a lifetime of bounties and bloodshed, Viv is hanging up her sword for the last time.
The battle-weary orc aims to start fresh, opening the first ever coffee shop in the city of Thune. But old and new rivals stand in the way of success — not to mention the fact that no one has the faintest idea what coffee actually is.
If Viv wants to put the blade behind her and make her plans a reality, she won't be able to go it alone.
But the true rewards of the uncharted path are the travelers you meet along the way. And whether drawn together by ancient magic, flaky pastry, or a freshly brewed cup, they may become partners, family, and something deeper than she ever could have dreamed.
★★★★☆
A slice of life, cozy fantasy. I loved the found family vibes; one of my favourite tropes. I've learned to love a detailed food element in my fantasy stories. Thimbles' baked goods made me hungry every time. Slow burn Sapphic romance was beautiful as well.
This is a great one to pick up this fall! Is it on your TBR?
Goodreads: https://www.goodreads.com/book/show/61242426-legends-lattes