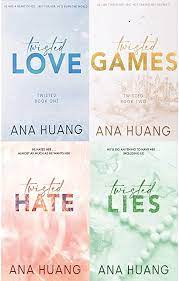 Twisted Series by Ana Huang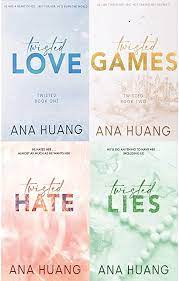 The Twisted series by Ana Huang is a #BookTok sensation; all of the hype!
Twisted Love: Brother's best friend trope
Alex Volkov is a devil blessed with the face of an angel and cursed with a past he can't escape.
Driven by a tragedy that has haunted him for most of his life, his ruthless pursuits for success and vengeance leave little room for matters of the heart.
But when he's forced to look after his best friend's sister, he starts to feel something in his chest. A crack. A melt.
Twisted Games: Bodyguard trope
Stoic, broody and arrogant, elite bodyguard Rhys Larsen has two rules: protect his clients at all costs and do not become emotionally involved. Ever.
He has never once been tempted to break those rules . . . until her.
Bridget von Ascheberg. A princess with a stubborn streak that matches his own and a hidden fire that reduces his rules to ash.
Twisted Hate: Enemies to lovers, best friends brother trope
Gorgeous, cocky, and fast on his way to becoming a hotshot doctor, Josh Chen has never met a woman he couldn't charm – except for Jules f**king Ambrose.
The beautiful redhead has been a thorn in his side since they met, but she also consumes his thoughts in a way no woman ever has.
When their animosity explodes into one unforgettable night, he proposes a solution that'll get her out of his system once and for all: an enemies with benefits arrangement with simple rules.
Twisted Lies: Fake dating trope
Charming, deadly and smart enough to hide it, Christian Harper is a monster dressed in the perfectly tailored suits of a gentleman.
He has little use for morals and even less use for love, but he can't deny the strange pull he feels toward the woman living just one floor below him.
She's the object of his darkest desires, the only puzzle he can't solve. And when the opportunity to get closer to her arises, he breaks his own rules to offer her a deal she can't refuse.
★★★☆☆
After having now read all four books, I can honestly say I do not see the hype for this series, and I hate that! I gave them all 2-3 stars and am so disappointed. Many claim these are "dark romances" and I wholeheartedly disagree. These feel very contemporary to me, but then the "dark" aspect always comes in with an awful 3rd act break up. That is where every single book lost me. The spicy scenes were really good, but the rest of it did not work for me unfortunately.
Photo credit: Goodreads