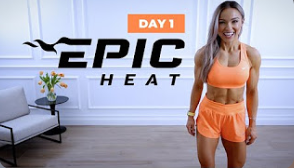 Summer Workout Plan: EPIC Heat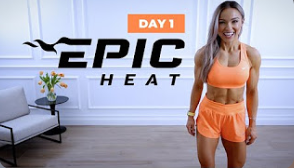 I don't usually share about my workout plans but I'm trying to branch out. I am a big fan of at-home workouts, and Caroline Girvan quickly became a favourite these past few years. As a certified trainer, Caroline's programs are well rounded and effective. I have completed quite a few of her programs at this point. Her smile and positive attitude keep me coming back, and I love her video format. She gives a thorough introduction, then no talking throughout the workout using a timer beep, text on screen, and a clip showing the upcoming exercise.
This summer I was looking for something relatively quick (under 45min), with a cardio component but less HIIT heavy than what I was doing previously. I landed on Caroline's EPIC Heat series. At right around 40 minutes per day, 5 days a week, for 10 weeks, I am very excited to be working my way through this program. Each session leaves me sweaty, but I am able to make it to the end without absolutely struggling.
Next up: buying some heavier weights!
Have you ever done one of Caroline's programs?