NEW Rare Beauty Blush & Glow Set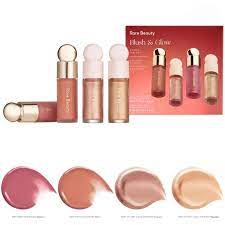 New Makeup Release
The Holiday makeup releases have really picked up speed. This is one of the first to truly catch my attention. Every year I keep my eye out for the holiday sets from Rare Beauty. This is the Rare Beauty Blush & Glow 4-piece set (C$46). It contains 4 x 0.11oz/3.2mL of fan favourite products. The two liquid blush shades are Wisdom (set-exclusive mauve plum) and Virtue (soft terracotta). The two liquid highlight shades are Magnetize (set-exclusive light gold) and Transcend (rose gold).
Rare Beauty has become a brand I truly love. The main reason I covet these holiday sets is because I will never be able to completely use up one of their full size blushes or highlights before they expire. I have a larger makeup collection, and the full size products contain 0.25oz/7.5mL – that's a ton! Therefore, these sets are the perfect way to try new products and shades at a more affordable price point.
These holiday sets are wildly popular, so if this one intrigues you, I'd recommend grabbing it as soon as you're able.
*This post contains affiliated links.